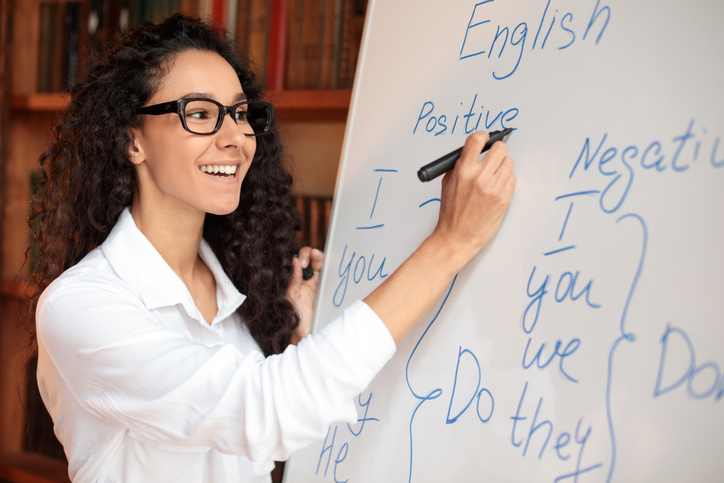 The following blog was contributed by Dale McDonald, PBVM, Ph.D., NCEA Vice President of Public Policy.  
Do you have English Language Learners in your Catholic school?
Have you heard of Title III-A? 
As Catholic school educators engage in their mission to serve all students, it is important our private schools receive the aid they are entitled to. ESEA's Title III-A is a program that requires equitable services for English Language Learners (ELs) and their teachers. 
Here are FAQs about Title III-A and how it can be implemented effectively in your Catholic school: 
Who are ELs?
According to ESSA, an EL is a student aged between 3-21 who meets one of these criteria: 
Was not born in the United States, or whose native language is a language other than English; 
Is a Native American or Alaska Native, or a native resident of the outlying areas; and comes from an environment where a language other than English has had a significant impact on the individual's level of English language proficiency;  
Comes from an environment where a language other than English is dominant and has difficulties in speaking, reading, writing or understanding the English language that may affect their education. 
What are the purposes of Title III-A? 
To help ensure that English learners attain English proficiency and develop high levels of academic achievement; 
To assist teachers, principals, and other school leaders in implementing effective English language instruction; 
To promote family and community participation in English language instruction programs. 
Are private school students and teachers included in the Title III-A program? 
Yes. The local educational agency (LEA – public school district) must ensure that ELs can participate meaningfully and equally in educational programs and services by identifying and assessing all potential EL students.
The public school district must provide for the participation of eligible private school students, their teachers and staff in Title III-A programs in their district. 
The district must also engage in timely and meaningful consultation with private school officials during the development of their Title III-Part A programs.  
How is Title III-A implemented? 
The state education agency (SEA) allocates funds each fiscal year to every district in the state with an approved Title III plan and should ensure that its LEAs receive funds with enough time to spend them in a meaningful way during the school year. 
What questions should private schools ask when collaborating with their district? 
How will nonpublic school students be identified? * 
How will the needs of eligible teachers and staff be identified? 
What services will the district provide to meet the needs of identified students and their teachers and other personnel? 
How will services be assessed to improve the service in the future? 
*The private school and the LEA should establish objective criteria to determine which private school children are eligible based on responses to a survey and/or scores on an English language proficiency (ELP) screener assessment.  
What services may be provided for using Title III-A funds? 
Tutoring for ELs before, during or after school hours; 
Summer school programs to provide English language instruction for ELs; 
Provision of supplemental instructional materials and supplies. (These materials and supplies must be clearly labeled and identified as the LEA's property, and must be secular, neutral and nonideological.) 
Professional development for private school teachers of ELs; 
Administration of an ELP assessment for identification of ELs and/or for the purpose of evaluating the effectiveness of services, including test booklets, teacher training and stipends to teachers to administer assessments. 
Is there more information available to guide the implementation of Title III-A programs and services for ELs in private schools? 
Yes, the U.S. Department of Education has provided guidance specially addressing participation of private school students and teachers in this program. It is an important resource and should be brought to any consultation meeting. 
An English Learner Tool Kit from the U.S. Department of Education is available online.  This resource contains an overview, sample tools and resources to help with the effective implementation of the program. 
In addition to the Title III-A resources, educators have many other tools available to assist them serving ELs both at school and at home. Several other Titles of ESEA, particularly Title I-A, II-A and IV-A are important as well as technology resources for at-home services to provide connectivity and hardware to students caught in the digital "homework gap." As Catholic schools increase their efforts to serve more diverse learners, it is important that they find and use every available resource to support them.