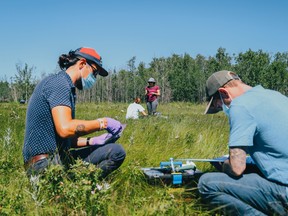 Article content
A week-long summer workshop in Edmonton has given some science students the chance to bond and gain first-hand experience in the study of genomics.
Article content
The Summer Internship for Indigenous People in Genomics (SING) Canada is designed to train and build scientific literacy among Indigenous students and researchers in the branch of molecular biology dealing with the structure, function, evolution, and mapping of genetic material. The program ran from July 11 to 15.
Kim TallBear, a professor in the faculty of native studies at the University of Alberta and co-founder of SING Canada, said the program is geared toward prospective scientists. However, she added, it has also accepted Indigenous community members including elders and band councillors, along with working scientists looking to learn more about their discipline in relation to Indigenous peoples' research and governance priorities.
Article content
"It's really important that people in the community have a basic understanding of the lab, the culture of science and what's involved," TallBear said. "While we are mostly looking at providing this context for Indigenous scientists in training, we do also sometimes provide it to people interested in policy and regulation."
Created in 2018 and associated with both the university's faculty of native studies and Indigenous Science, Technology, and Society program, the annual workshop sees about eight to 14 participants each summer, TallBear said. This 2022 program included an opportunity to collect and analyze soil samples from the Nisku Native Prairie Reserve just south of Edmonton and compare them to soil from a corn crop at a University of Alberta research station, she added.
Article content
"We can look at the way that different land uses, particularly after settlement, have shifted the microbiome in the soil," TallBear said, referring to the genetic material of microorganisms in those environments.
Among the 2022 cohort, University of Victoria student Elijah Buffalo said he was drawn to the opportunity to gain scientific knowledge and training from an Indigenous perspective.
Also a member of Samson Cree Nation, he said the program has allowed him to reflect upon Indigenous peoples' relationship with the land.
"Being able to participate with the land in a way that's building my knowledge base, and having the chance to hear from these other knowledge keepers within the realm of science — it's really special to me," Buffalo said.
Article content
More than just a skill-building experience, the program offers participants an opportunity to network with one another as well as Indigenous thinkers concerned with both science and policy.
"Building that relationship with science in a way that's about the people who are doing the science, that's probably the biggest thing that I've taken away," Buffalo added.
In June, the University of Alberta released an Indigenous-led strategic plan with the goal of dismantling colonial structures in the institution that have "disenfranchised Indigenous Peoples of their legal, social, cultural, religious and ethnic rights."
TallBear said that while colonial institutions may practise scientific research, there is nothing inherently colonial in the scientific method, which involves systematic observation, measurement and experimentation as well as formulating, testing and modifying hypotheses.
"We can use the scientific method to investigate questions that deeply interest Indigenous peoples, and that serve our priorities and serve our peoples," she said. "We might have a question about a rare genetic disease that's found in a higher frequency in Indigenous communities. We might be very interested in that."